Mid Cornwall Galleries was established in 1980 and is one of the largest and most respected retailers of contemporary arts and crafts in the South West.
---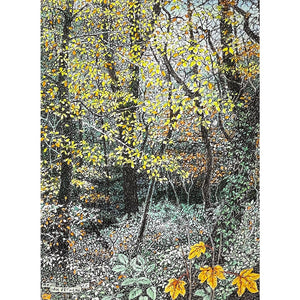 New Paintings by Ian Pethers
A new collection of paintings by the fantastic Ian Pethers has been added to the website!
Ian grew up in the Thames Valley and took to painting at an early age, studying at the local School in Slough and later on at night school under artist Jenny Riley at Marlow Community College.
From 1976 to 1989 he worked as a relief lock-keeper on the River Thames, during which time he explored the river and produced over one hundred ink and watercolour paintings.
Ian now resides in Cornwall and is an elected a member of the Society of Botanical Artists and an associate of the Royal Society of Miniature Painters.
Browse Collection
New Paintings by Paula Sharples
Paula gained a degree in Textile Design at Reigate School of Art, Surrey in the late 60s and spent fifteen years as a freelance textile designer.
Now immersed in painting, she works on gesso prepared board or canvas with acrylics, ink and graphite in layers and uses a combination of still life with landscape background. Her use of colour and pattern is evidence of her past in textile and ceramic design.
The coast is a constant inspiration and Cornwall and Devon feature heavily in her paintings.
Browse Collection
New Paintings by Lucy Davies
We have a wonderful new collection of Lucy's paintings for the autumn season! The piece pictured here is called 'Treyarnon Through the Tamarisk'.
Lucy trained at St Martins and Brighton and has a BA (Hons) in graphic design, specialising in illustration. She paints full time, either at her studio in London or in North Cornwall where she spends her summers.
A keen walker, Lucy will always take her camera and sketchbook with her on trips to record new images so she has plenty of inspiration in the cold winter months when she's tucked away in her studio.
Browse Collection
New Work by Lynn Muir
We've just added some new pieces to Lynn's page, including this gorgeous couple.
Lynn uses mainly driftwood which she collects from the local beaches and lets the shape and form of the wood suggest figurative forms to her and then works on it with machine saws, powered sander wheel and hand tools. She then 'illustrates' the shaped wood with paint and pen.
Browse Collection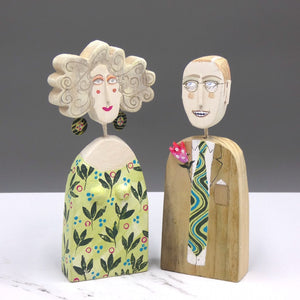 New Paintings by Amanda Hoskin
Not only have we taken delivery of some beautiful new coastal scenes but we're also delighted to unveil a very special collection of Amanda's still life paintings!
Amanda's early career was spent working as a wildlife illustrator but an interest in painting other subject matters began to grow. She experimented with various techniques and mediums, working in a more expressive and fluid way. Paying close attention to detail of light, Amanda soon found her own impressionistic style that her work is known for today.
Browse Collection
New Paintings by Tracey Elphick
Look what's just flown into the gallery! This fabulous little oil painting is part of a sublime new collection by Tracey Elphick.
Tracey studied fine art at Falmouth Art College and went on to become Head of Art at Kingshill School. She now works as a full time professional artist in Cirencester.
"Over the past couple of years, garden birds have been a great source of interest as a subject for me. I like trying to capture something of their character and form in a minimal amount of loose but carefully placed brush strokes."
Browse Collection
Pay In Instalments
Mid-Cornwall Galleries is a member of the Arts Council 'Own Art' scheme, which makes buying art easy and affordable by letting you spread the cost of your purchase over 10 months with an interest free loan.
Representative 0% APR. T&Cs apply.
Find Out More